PRESS RELEASES
Public Storage and Solar Landscape Announce Multistate Community Solar Portfolio
August 01, 2023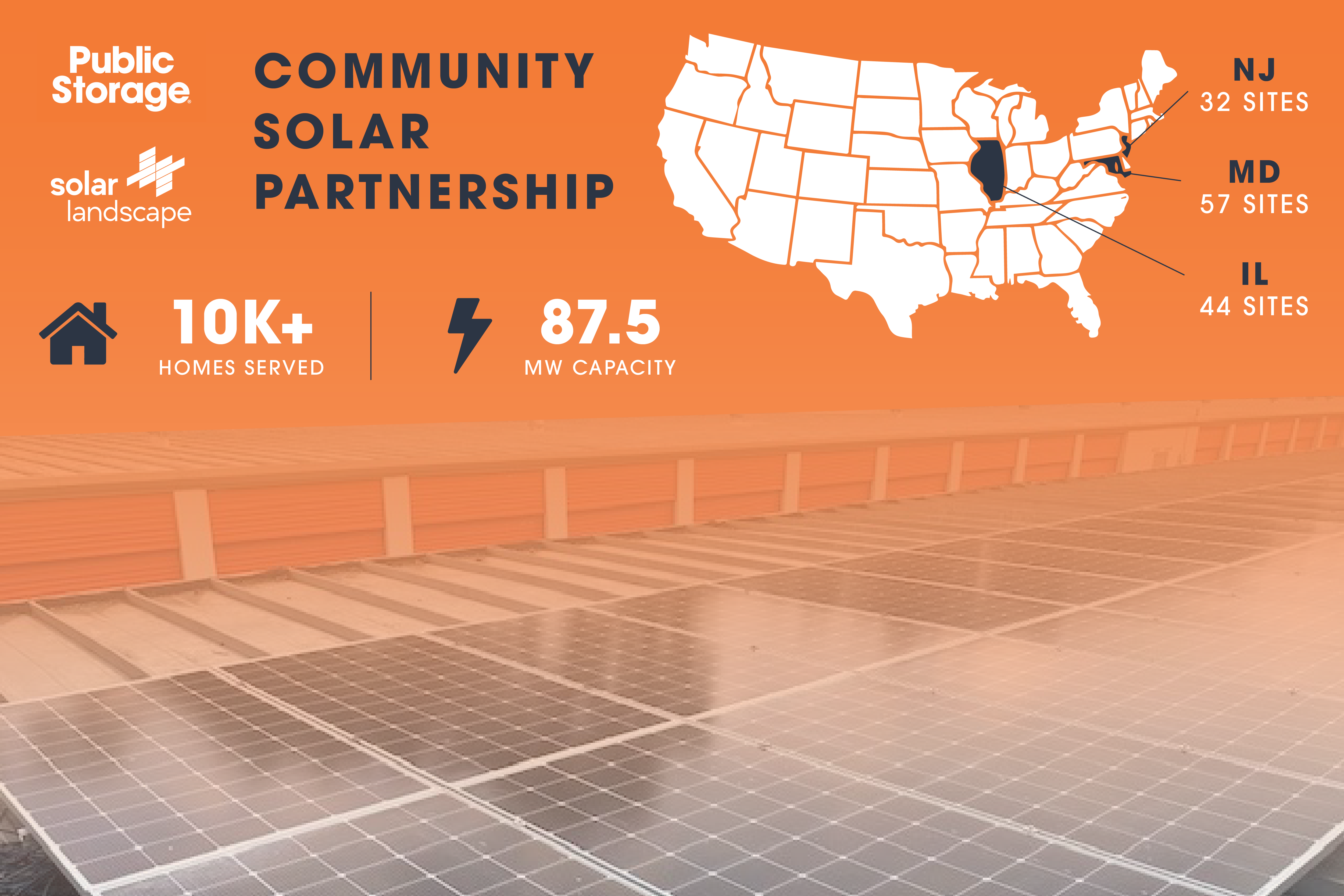 Public Storage will host 133 solar projects on facility rooftops to provide
historically overlooked communities with affordable renewable energy
GLENDALE, California – Public Storage (NYSE:PSA), the nation's leading self-storage owner, and Solar Landscape, the leading commercial and industrial rooftop solar developer, announced today that they have commenced construction on the first of more than 130 rooftop community solar projects that comprise a multistate community solar partnership.
Together, the 133 community solar installations in Maryland, New Jersey, and Illinois will power over 10,000 homes with renewable energy. The 87.53-megawatt MW (DC) clean energy portfolio is one of the largest in the nation making affordable renewable energy accessible to low- and moderate-income (LMI) residents.
The program will allow local community residents to subscribe to nearby solar installations located on Public Storage's rooftops. Subscribers will receive discounted electricity, often with additional savings for LMI households. Community solar expands access to renewable energy for those who are unable to install solar panels for reasons such as high costs, lack of roof control, or insufficient sunlight. Public Storage's rooftop projects will lower energy bills for subscribers, saving residents millions of dollars per year on electricity costs.
The nation-leading community solar portfolio includes 21 projects spanning 13.2 MW that were announced on July 27 by the Illinois Power Agency (IPA) as part of its Community-Driven Community Solar tranche of the Illinois Shines program. The 21 projects will serve nearly 1,500 households.
Public Storage's 57 low-income focused community solar installations in Maryland will serve nearly 2,600 homes, many of them LMI families, making it the largest portfolio of projects from a single company in the Maryland Community Solar Pilot Program's LMI subcategory. These projects will save Maryland residents nearly $1,000,000 per year on their energy bills.
Public Storage plans to dedicate up to 44 of its properties in Illinois to community solar including the 21 approved by the IPA, and plans to dedicate another 32 properties in New Jersey. The company and Solar Landscape worked in close collaboration on site selection, solar system design, financing options, and state program applications to maximize the effectiveness of the company's rooftops. The proposed renewable energy installations will be installed on more than 8,000,000 square feet of Public Storage's facility rooftops.
The community solar projects further Public Storage's commitment to sustainability, which focuses on creating long-term resilience, growth, and value for the company's communities, customers, employees, and additional stakeholders. The 133 committed solar projects in this partnership represent 13% of the company's commitment to install solar on more than 1,000 properties by 2025.
"Community solar furthers Public Storage's strong commitments to sustainability and our communities," said John Sambuco, President of Asset Management, Public Storage. "We are providing affordable renewable energy for low- and moderate-income residents, reducing our collective carbon impact on the environment, and converting non-used rooftop area into socioeconomically productive space for our company."
"We are thrilled to collaborate with a forward-thinking company like Public Storage on this nation-leading partnership to expand solar accessibility to underserved communities, particularly low-income families," said Solar Landscape CEO and co-founder Shaun Keegan.
About Public Storage
Public Storage, a member of the S&P 500 and FT Global 500, is a REIT that primarily acquires, develops, owns, and operates self-storage facilities.  At March 31, 2023, we had: (i) interests in 2,877 self-storage facilities located in 40 states with approximately 205 million net rentable square feet in the United States and (ii) a 35% common equity interest in Shurgard Self Storage Limited (Euronext Brussels:SHUR), which owned 266 self-storage facilities located in seven Western European nations with approximately 15 million net rentable square feet operated under the Shurgard® brand.  Our headquarters are located in Glendale, California.
About Solar Landscape
Solar Landscape is the leading commercial and industrial rooftop solar developer in the U.S. with experience in both community solar and behind-the-meter solar projects. The company employs over 150 people and has more than 250 megawatts of solar energy projects built, and over 150 megawatts operating and under construction. For more about Solar Landscape, visit www.solarlandscape.com.
This story was originally posted by Public Storage on August 1st 2023. See it here.
Have a question?
Ask away! We can help answer all your commercial rooftop and community solar questions here.