PRESS RELEASES
Solar Landscape Approved to Begin 46 New Community Solar Projects Across New Jersey
October 28, 2021
New Jersey Board of Public Utilities Approves More Than 50 Megawatts of Solar Landscape Installations to Primarily Serve Low- and Moderate-Income Households
‍
Asbury Park, NJ – October 28, 2021 — Solar Landscape, New Jersey's top-ranked solar developer, has been approved to begin 46 new community solar projects as part of the New Jersey Office of Clean Energy's Community Solar Pilot Project Year Two. The newly approved Solar Landscape projects, posted by the New Jersey Board of Public Utilities today, are expected to generate 50.96 megawatts of solar energy.
"Together, we are making clean energy history by opening access to solar power to everyone in New Jersey – especially our low- to moderate-income families," said Solar Landscape co-founder and chief executive officer Shaun Keegan. "We are pleased to build on the success of our existing community solar projects and I'm grateful for the continued collaboration with our partners in the commercial real estate, non-profit and government sectors. Thanks to community solar, we can continue to transition away from fossil fuels through clean energy and make it more affordable at the same time."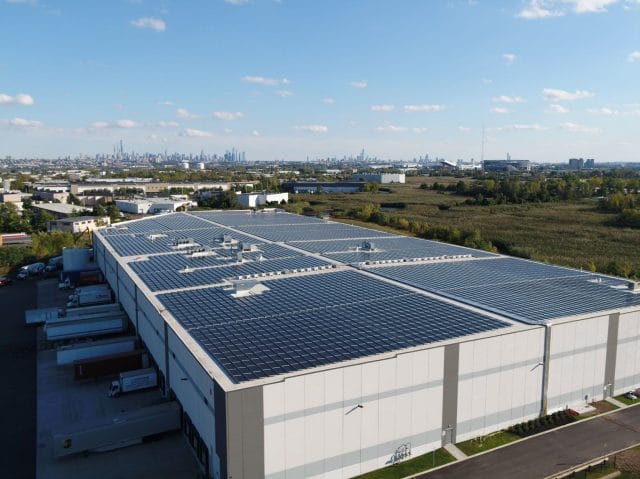 Clean Energy Equity: 1,500 LMI Households Through Community Solar Year One
Solar Landscape has completed seven of the eight community solar projects approved as part of Year One and expects to finish the final installation by the end of the year. Together, these projects will generate 20 megawatts of solar energy for more than 3,000 households – with more than 1,500 of them LMI households – making it the largest clean energy portfolio in the country intended primarily for LMI residents.
The seventh community solar installation, located in North Bergen, will generate more than two megawatts (DC) and is scheduled to be energized Friday, November 5.
Community solar in New Jersey makes clean energy accessible to low- to moderate-income (LMI) households by removing barriers to solar power and making it more affordable. Unlike residential solar installations, which require that the customers own their homes, community solar opens solar energy use to those who may rent their home, live in a multi-family building or do not have the financial resources to pay for a residential installation.
Solar Landscape's community solar projects install photovoltaic solar panels on large warehouses and distribution centers, which generate energy and put it back into the state's electrical grid. New Jersey residents "subscribe" to use the electricity from these installations and receive a 15 to 20 percent discount on their monthly energy bill.
‍
New Jersey's Clean Energy Economy: Powered by People
As part of its commitment to community solar, Solar Landscape has been active in creating the workforce to support New Jersey's clean energy economy.
In partnership with workforce development nonprofits across the state, Solar Landscape has trained dozens of New Jersey residents to install solar panels on rooftops at weeklong training sessions across the state. That work earned Solar Landscape's director of community engagement Kate Gold the "Top Solar Changemaker" designation from national solar publication Solar Power World. Gold shared her experiences in creating the company's workforce development program to Nico Johnson on a recent episode of his podcast, SunCast.
Solar Landscape has also partnered with New Jersey's community colleges, technical schools and nonprofits to introduce schoolchildren and college students to the potential of working in solar energy. Earlier this month, Solar Landscape and nonprofit Sustainable Jersey City awarded $20,000 in scholarships to high school seniors through its Community Sustainability Challenge scholarships.
‍
About Community Solar in New Jersey
Solar Landscape's community solar installations are part of the New Jersey BPU's Community Solar Pilot Program, which is administered by New Jersey's Clean Energy Program. Enrollment is open to renters and property owners with no cost to join, no long-term contracts and guaranteed cost savings. In addition to developing the projects, Solar Landscape is working with non-profit organizations and community leaders to educate residents about the benefits of community solar.
In January, Solar Landscape executives joined Governor Phil Murphy, the New Jersey Board of Public Utilities President Joseph L. Fiordaliso, Congressman Frank Pallone, Assemblywoman Yvonne Lopez and Assemblyman Craig Coughlin, as they cut the ribbon on the very first operational community solar project in NJ, located at 960 and 1000 High Street in Perth Amboy. These first two projects are providing clean electricity to more than 1,100 homes.
Residents interested in subscribing to Solar Landscape's community solar projects can enroll at www.GoSolarLandscape.com.
‍
About Solar Landscape
Based in Asbury Park, New Jersey, Solar Landscape is a leading New Jersey developer, designer, installer, owner, and operator of community solar and solar energy solutions for the commercial/industrial, municipal, public school and non-profit marketplace. The company has installed more than 110 megawatts of commercial solar energy projects in the Northeast. For more updates on Solar Landscape, visit the website (www.solarlandscape.com) or on Twitter, LinkedIn, Facebook or Instagram.
# # #
‍
Have a question?
Ask away! We can help answer all your commercial rooftop and community solar questions here.