PRESS RELEASES
Solar Landscape Opens Enrollment for Green Ambassador Program and $20,000 in Scholarships
February 09, 2023
ASBURY PARK, NJ – February 9, 2023 – As part of Solar Landscape's community solar initiatives, the company is now accepting enrollments for its Green Ambassador Program and will award $20,000 in scholarships ranging from $500 to $2,000 to the winners of its Community Sustainability Challenge.
‍
Now an online course, the Green Ambassador Program provides sustainability education to high school students who are seeking to create change within their communities. Since its inception in 2021, the program has reached more than 300 New Jersey students.
‍
Students can enroll today at www.solarlandscape.com/green-ambassador-program. A flyer is also available here with additional details.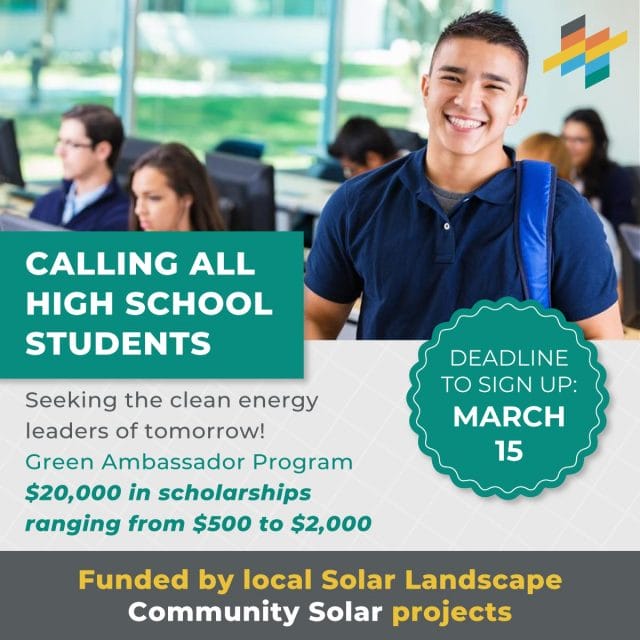 This year's webinars focus on green energy and careers, including:
Energy 101
Sustainable Policies
Community Solar
Careers in Energy
Green Energy Business and Entrepreneurship
"Engaging with New Jersey's students early about the role they play in sustainability is vital to our clean energy future," said Randall Solomon, executive director of Sustainable Jersey. "Solar Landscape's Green Ambassador Program creates a real opportunity for New Jersey's schools, teachers and students to have the chance to earn scholarships and promote our clean energy transition. Solar Landscape deserves praise for their ongoing efforts to innovate and advance sustainability."
Solar Landscape's Green Ambassador Program is one part of the company's workforce development efforts to build a workforce ready to meet the upcoming demands of the clean energy transition. Together, the training program and Green Ambassador program have reached nearly 1,500 New Jersey residents.
‍
The workforce development program also includes training for adult community members and is made possible through partnerships with commercial real estate companies who host Solar Landscape's rooftop community solar installations on their rooftops. In January, the U.S. Department of Energy recognized the program with a Sunny Award for Equitable Workforce Development and in 2021, Solar Landscape's director of community engagement Kate Gold was named a "Top Solar Changemaker" by Solar Power World for advancing solar workforce development in New Jersey.
‍
"Our clean energy economy depends on introducing more students to new career paths today," said Solar Landscape CEO Shaun Keegan. "That's why we're excited to continue to support this annual opportunity for high schools and their teachers and students with this online curriculum and scholarship."
‍
About Solar Landscape
Based in Asbury Park, Solar Landscape is a leading full-service developer, designer, installer, owner, and operator of community solar and solar energy solutions for the commercial/industrial, municipal, public school and non-profit marketplaces. The company employs more than 120 people and has more than 200 megawatts of solar energy projects completed or under construction. For more about Solar Landscape, visit www.solarlandscape.com or check us out on Twitter, LinkedIn, Facebook or Instagram.
# # #
‍
Have a question?
Ask away! We can help answer all your commercial rooftop and community solar questions here.